Due to the timing of the snowfall predicted for our area, VIT will operate under a 2 hour delayed start for Wednesday (1/25). Buses will arrive at their stops roughly 2 hours later than a normal day. There will be no pre-k.

Our annual VIT Veterans Day Assembly is today @ 1:15pm in the Jr/Sr High Gym. Veterans can start arriving at 12:30pm for refreshments and to check in for the assembly. The assembly is open to the public!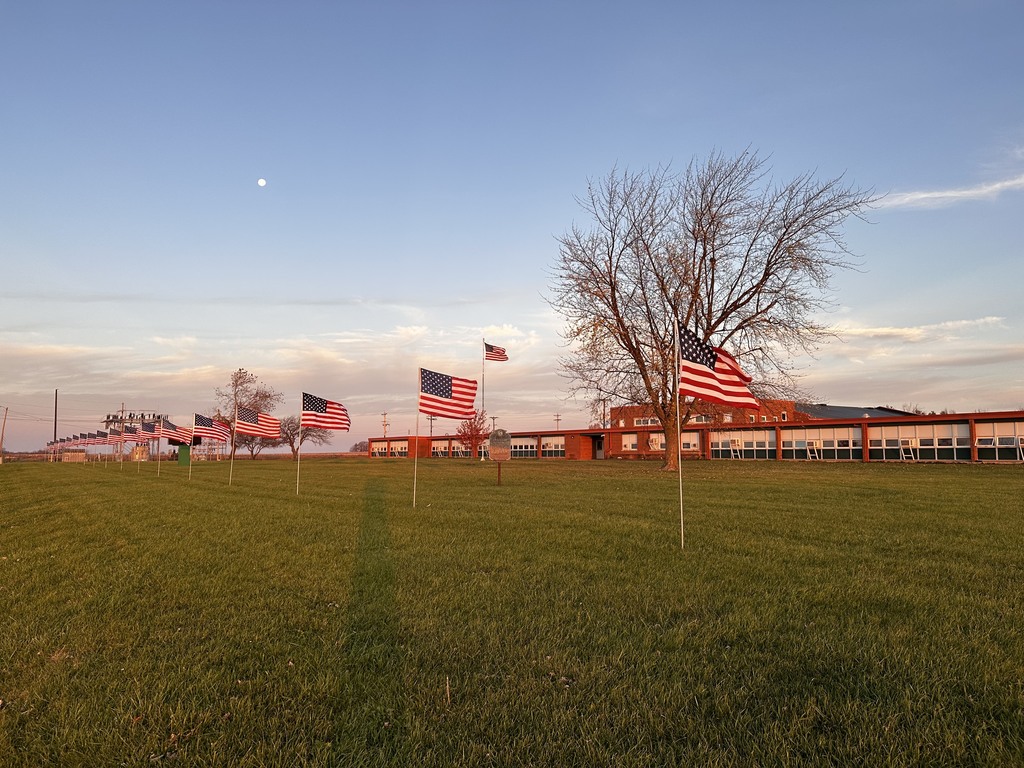 The Pixellot camera that is used to broadcast our football games on the NFHS network has been damaged. We are working to resolve the issue as quickly as possible. At this time, we predict that tomorrow evening's football game between South Fulton and Macomb will not be availble to broadcast. We apologize and thank you for your patience and understanding.

2023 V.I.T. Preschool Screening Information.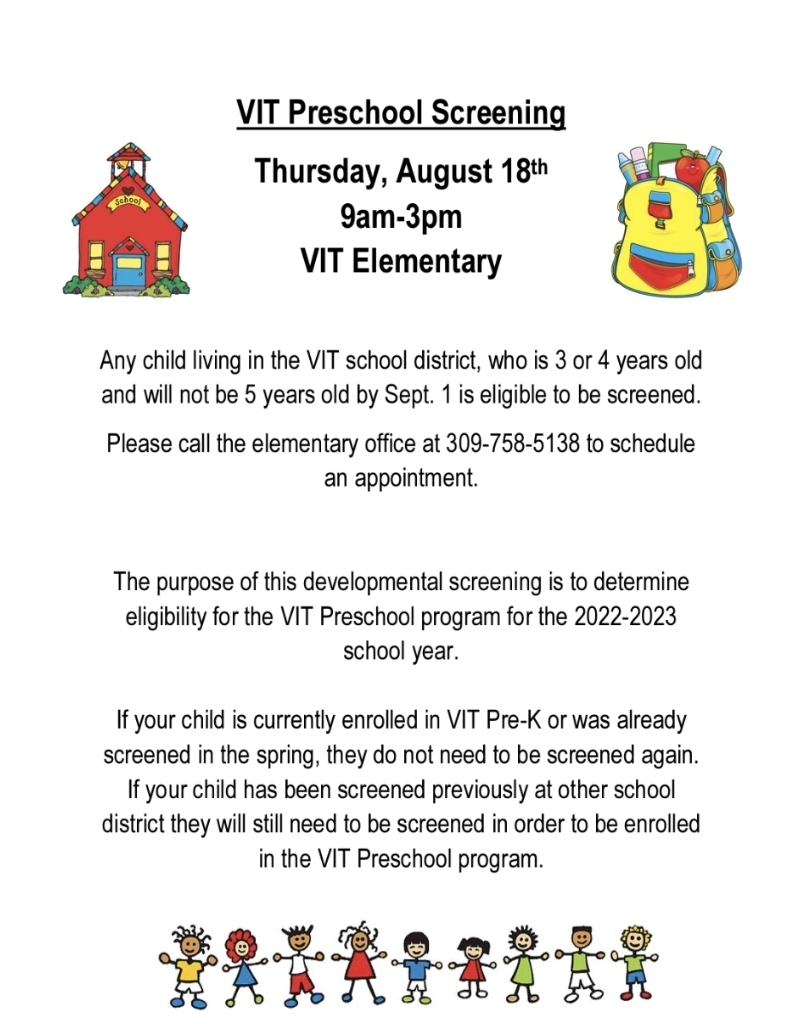 2022-2023 Jr.-Sr. High School Supply List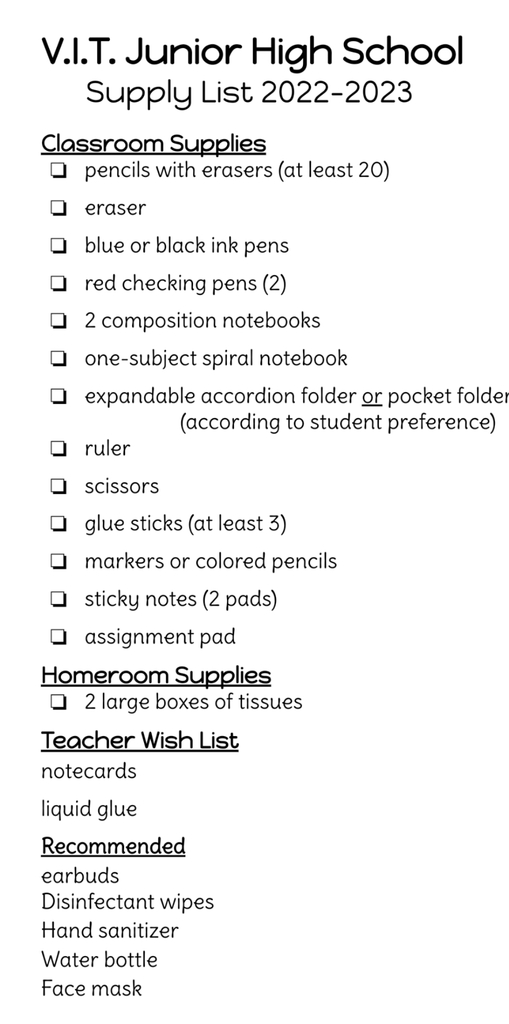 Information regarding Poms Summer Camp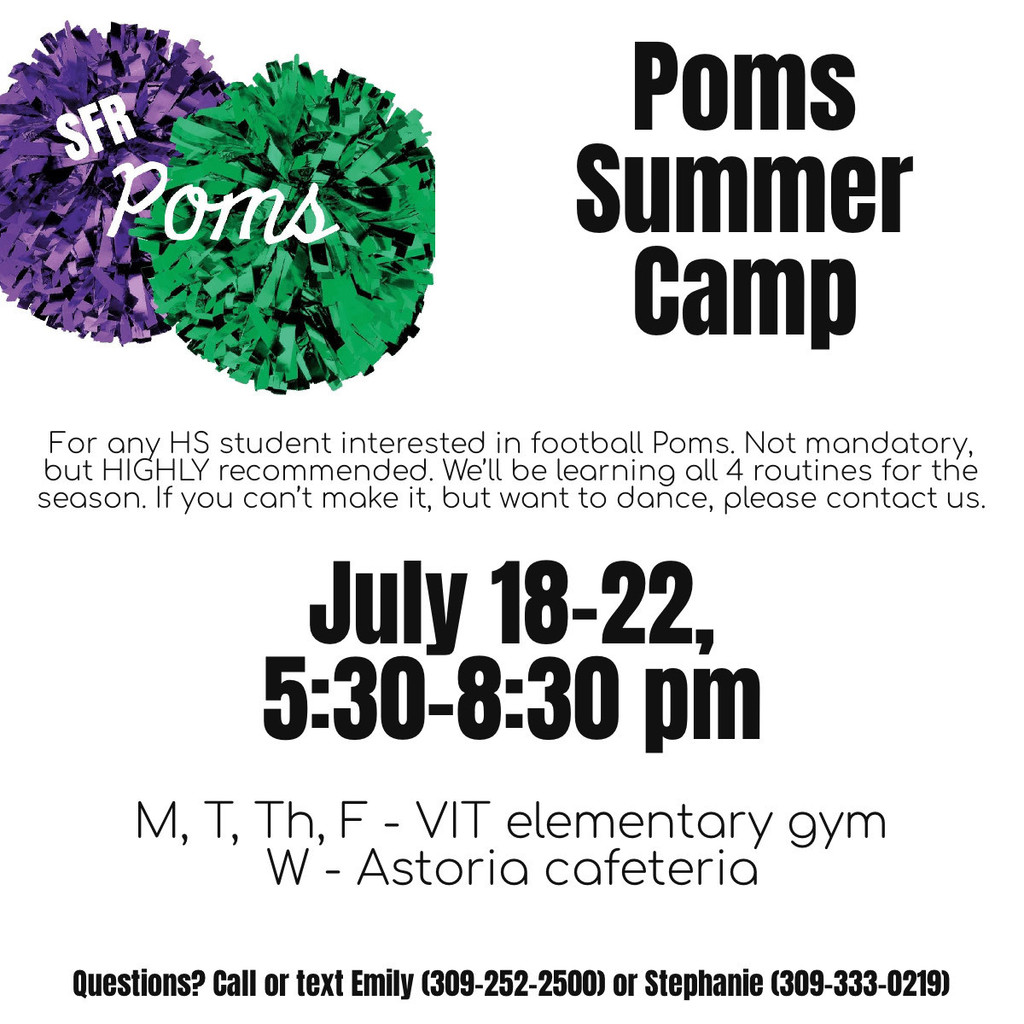 Online registration for V.I.T. CUSD #2 opens today at 8 a.m. information can be found on our website at
www.vit2.org
. PLEASE REMEMBER THERE ARE 3 COMPONENTS TO REGISTRATION. MAKE SURE TO FOLLOW THE DIRECTIONS AND COMPLETE ALL 3 PARTS: STUDENT REGISTRATION, FEE PAYMENTS, AND FOOD SERVICE APPLICATIONS. Thank you and we look forward to another great year at V.I.T!

High School Football Camp is July 18th -22nd from 6pm to 8pm


The VIT school board and track committee met last night and have officially approved phase 1 of the track project. Phase 1 covers putting down asphalt for a 6 lane track and also covers field events. The school board has applauded the efforts of the track committee on their amazing job of raising funds for the project thus far. The district is proud to see the committee get behind something that will allow not only a safer area for the track athletes to practice, but something that will be used by our PE students, PTO walkathons, and a safe walking area for the community. If you wish to donate towards the track or any other project the district is working on checks can be dropped off at the school or mailed to VIT CUSD # 2, 1502 E. US Hwy 136 Table Grove, IL 61482 Thank you for your continued support in our school and our students!!!!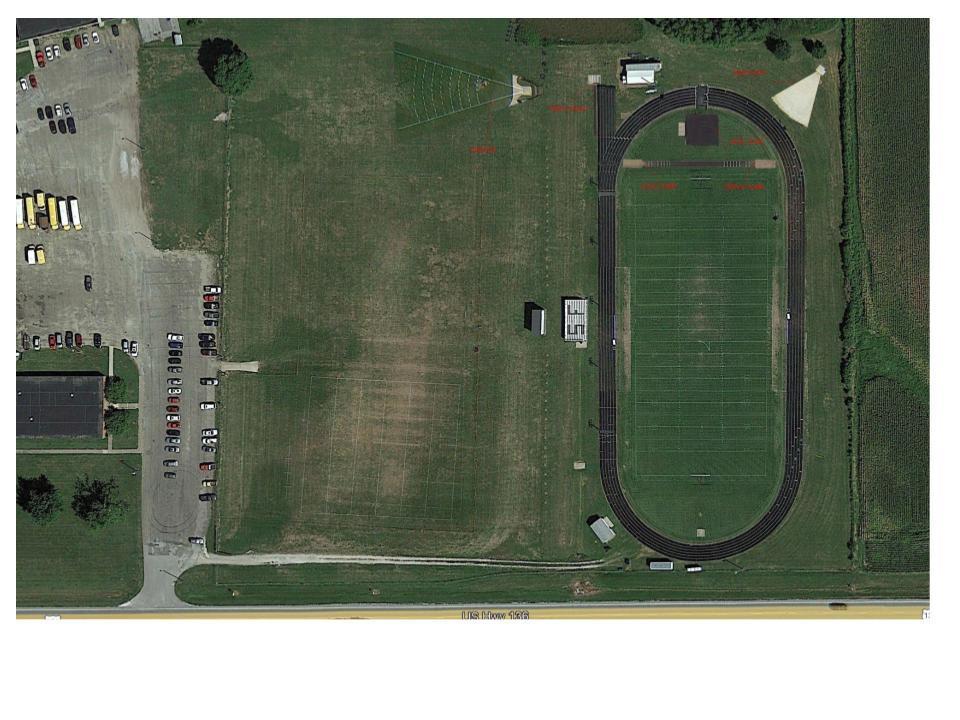 Reminder that tonight (6/15) is the poms informational meeting at 6:30 at the Astoria HS cafeteria! The pom squad is a dance team that will perform a routine at half time of the home varsity football games. Students who participate in another sport (volleyball, cross country, cheer) are welcome to join the poms as a dual sport. 🎉 We can't wait to see everyone tonight!

We are excited to announce we are starting a SOUTH FULTON REBELS POMS SQUAD!! Any incoming or current VIT or Astoria high school students who are interested in joining the poms squad for the upcoming HS football season are invited to an informational meeting to be held on Wednesday, June 15 at 6:30pm in the Astoria cafeteria. Coaches Stephanie Carithers and Emily Miller will explain the details and answer any questions. You do NOT need to be at the meeting to be on the team. PLEASE text 309-252-2500 with your name to let the coaches know you're interested (even if you do plan to attend the meeting).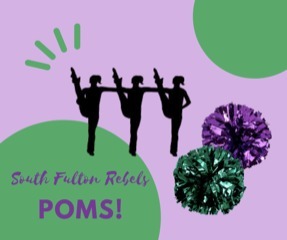 Please refer to the attached letter for information regarding next year's school lunch program.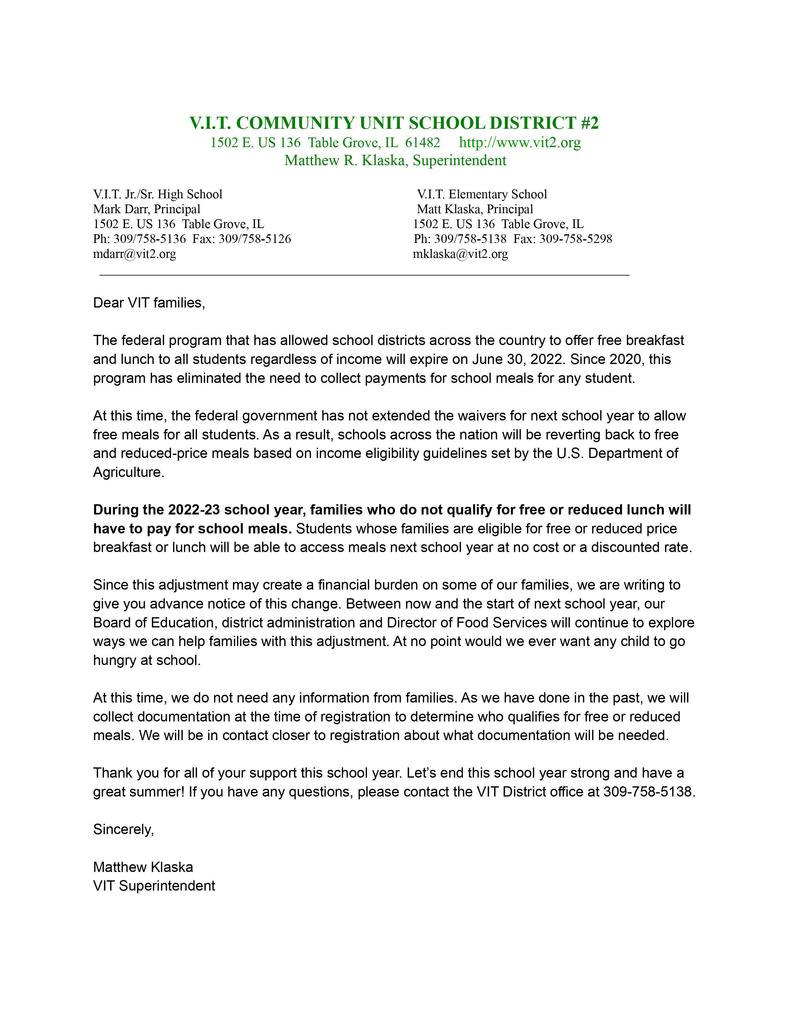 Students enjoying watching the 5th grade rocket launch!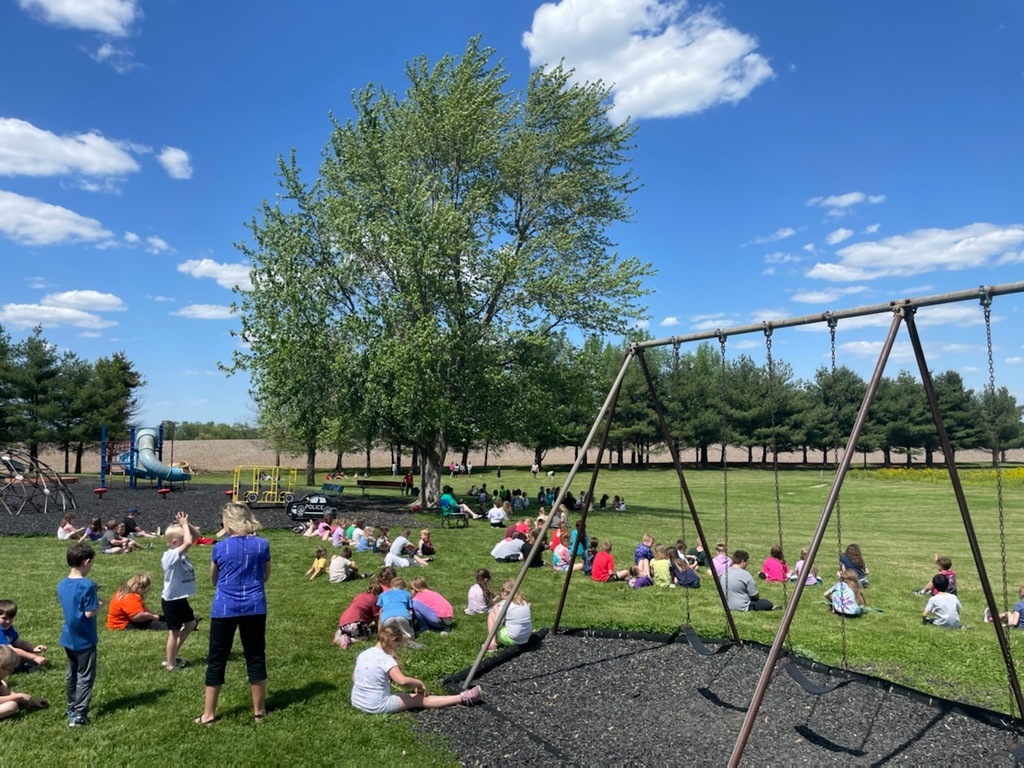 We will be on a soft lockdown until further notice (no outside activities) while the police are searching for suspect involved in domestic disturbance) 

Elementary Volleyball players sing to Mr. Snowden! Congratulations on a great season!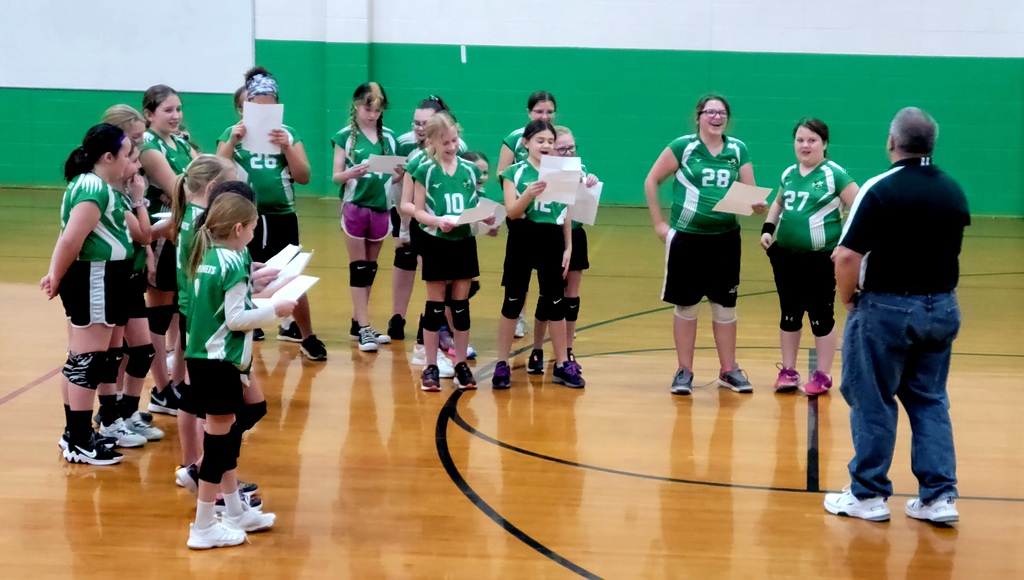 Due to blowing and drifting snow forecasted for the morning. VIT will be taking a remote day, Friday 2/18.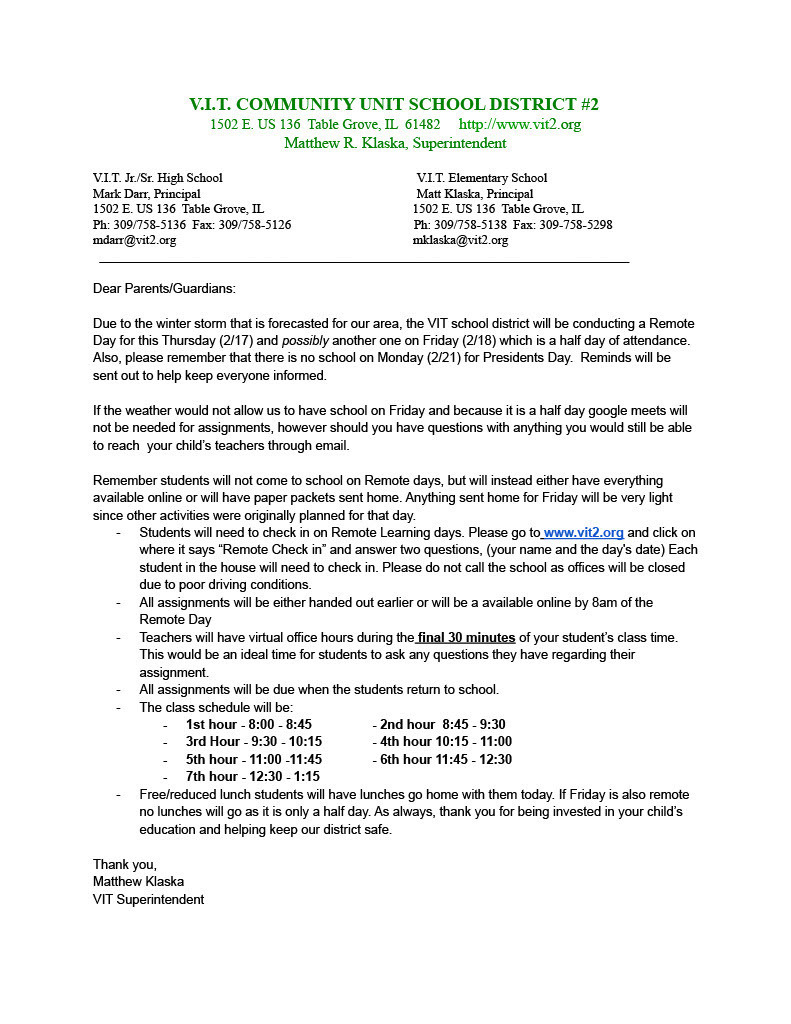 Please refer to the attached image for information regarding the court ruling on 2/6/22.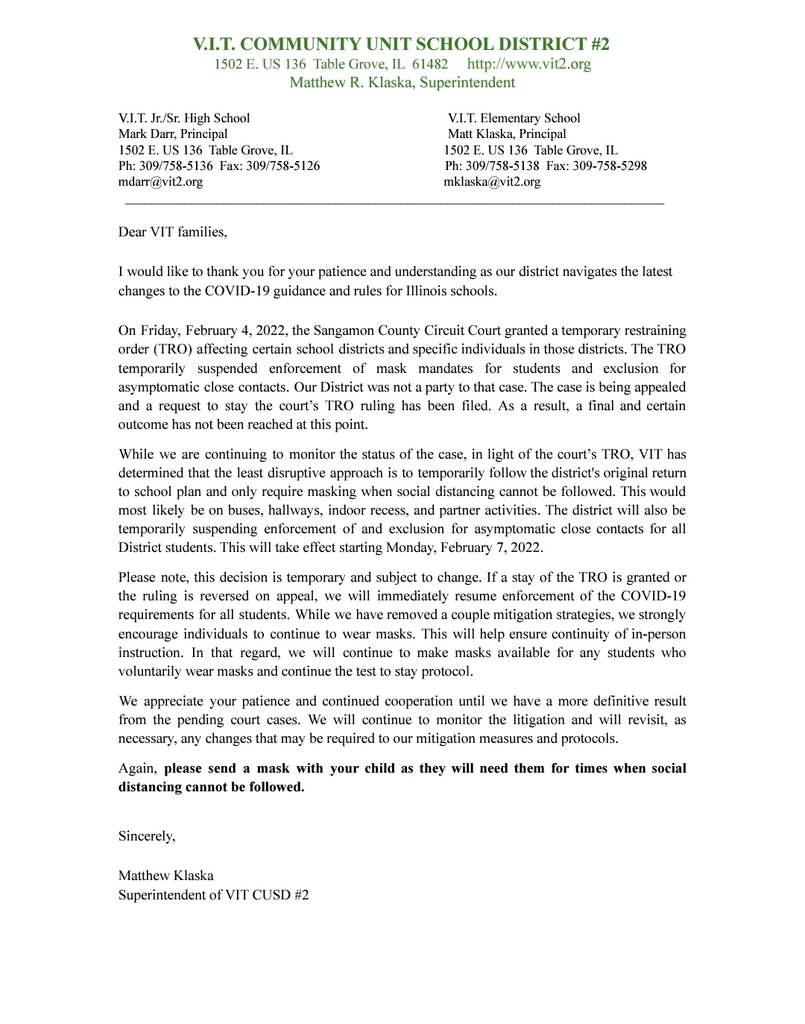 Due to poor driving conditions, V.I.T. CUSD #2 will be taking a traditional snow day tomorrow, Friday, February 4th.